For the hardtail enthusiast, the Honzo DL is a quintessential bike to have in your quiver. Featuring an aluminum frame with geometry derived from the Process 134 it's ready to rip up and down the trails. A short seat tube allows you to run a longer dropper post, and adjustable dropouts allow you to run the bike geared or as a single speed. Sitting squarely between the Honzo and the Honzo ESD – the Honzo DL is the all-round hardtail for any location. KONA 6061 ALUMINUM Kona 7005 and 6061 Aluminum alloys are used extensively throughout our fleet of mountain and asphalt bicycles. A tough, durable, light alloy, both Kona 7005 and 6061 deliver fantastic, reliable performance that lasts for thousands of rides. Much of our 7005/6061 tubing is butted and/or formed, meaning the tubing's wall thickness can be increased or decreased, as well as shaped, so we can fine-tune a particular frame's strength and ride characteristics depending on its intended application. INTERNAL HEADSET Bearing cups are actually pressed into the frame and are easily removable. An internal headset also reduces stack height, so the height of the stem and bars are more adjustable, giving the rider the best fit possible. TAPERED HEAD TUBE More girth at the bottom of the head tube better distributes shock force, prolonging the bearing life of the headset itself and eliminating brake shudder, while providing confident steering performance. The inherent strength of its triangular design also means a stronger steering position and improved balance, giving the rider more control in rough terrain. A zero-stack, tapered head tube also puts strength where the load is going—into the lower headset cup—maximizing bearing durability where it's needed. TUBELESS COMPATIBLE RIMS Tubeless rims allow for tires with more puncture resistance; the ability to run lower tire pressure, which provides better tire grip on the trail; lower rolling resistance; and weight savings over traditional tube and tire systems. 12x148mm AXLE 12x142mm, 12x148 and 12x157 rear axle standards provide two major advantages to the Kona rider: the 12mm diameter of the rear axle provides the rear hub and frame with a stiff interface, while the 142/148/157mm outer diameter of the hub allows the wheel to be quickly and properly positioned in the frame before the rear axle is inserted.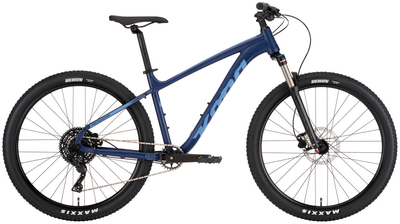 This Kona classic brings some of the finer things to light. The Fire Mountain is running a smooth-shifting 9-speed drivetrain to keep things manageable across varying terrain and hydraulic disc brakes to stop on a dime. With 100mm of adjustable suspension and sturdy tires aboard wider 27mm rims, the Fire Mountain helps build confidence off-road. Available for smaller riders in a 26" wheeled XS version and a 27.5" wheel for sizes S-XL.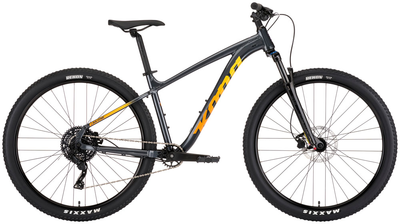 The Lava Dome is kind of like your best friend, but in bike form. It's awesome in the dirt. It's awesome to rally around town. It's awesome poking around neighborhood singletrack, and it does it all in a dependable way. The Lava Dome features an easy-to-use 9-speed drivetrain with a clutch rear derailleur as well as sleek internal cable routing and dropouts. With strong 29" wheels that can accept up to a 2.6" tires, this bike is ready for everything in its path!